Five Dog-Friendly Beaches Near South Bend, Indiana
Taking your canine to the beach can be a lot of fun, and there is nothing like seeing your pup wading in the water and enjoying themselves. The beach provides sights, sounds, and smells for your pup to take in, and it provides them with some good exercise as well.
There are some wonderful dog-friendly beaches near South Bend, Indiana. Three beaches at Indiana Dunes Park along Lake Michigan allow canines. A little further inland, Fox Island Park and Long Lake Resort are great options for your pup as well.
Whenever bringing your dog to the beach, be sure to follow good etiquette to keep your pup safe. Check out this article to learn about five dog-friendly beaches near South Bend, Indiana!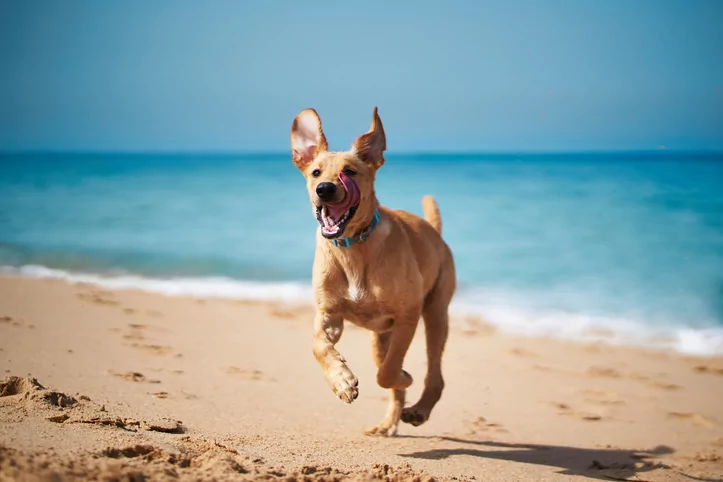 South Bend, Indiana Dog-Friendly Beaches
A beach is an idyllic place for pooches to exercise and have fun, and it is beneficial for their health and happiness. If you live in South Bend, Indiana, or are planning to vacation there, you should know there are some wonderful dog-friendly beaches close by.
Indiana Dunes Park
First on the list is Indiana Dunes National Park. Leashed pets are welcome to this picturesque nature center in all areas except the West Beach Swimming area. At this beach, there is a 15-mile stretch of beach along the lakeshore complete with breathtaking scenery.
Leashed pets can enjoy all trails except the Pinhook Bog Trail and the Glenwood Dunes Trail system horse trails. They can frolic and play on the beaches except in the lifeguard swim zone at West Beach between Memorial Day and Labor Day.
If you and your pup are up for a challenge, you can climb the three tallest dunes in the park. Mt. Jackson is the first of three dunes, and it is the smallest. The second is the formidable Mt. Holden, and the final and most challenging dune is Mt. Tom. For your ease, there are a number of pet-friendly hotels in the vicinity. The park area has three beaches known as Kemil, Dunbar, and Lake View Beaches.
Kemil Beach
You and your canine companion can have fun in the sun on Kemil Beach. The two of you can take a hike along the Dunes Ridge Trail or watch the sunset along the shore. You and your dog will appreciate the vast scenery at this beautiful beach.
Dunbar Beach
Just like the other beaches on this list, Dunbar Beach offers a cool place to take a dip or a comfortable spot to sit and relax. After your day of swimming and relaxing, you can visit the historical residences from the 1933 Chicago World's Fair Century of Progress. The impressive bright pink Florida Tropical House and the House of Tomorrow can also be seen.
Lake View Beach
Lake View Beach is located close to the peaks of Greens Hill and Mount Ashley. It is a beautiful beach with breathtaking scenery. You can experience the captivating view of Lake Michigan from the picnic area at Lake View Beach. This beach is great for a delightful picnic with your pup on the sandy shore.
Fox Island Park
Located in Fort Wayne, Fox Island Park is a small dog beach where your dog is allowed off-leash. The entire waterfront that is comprised of the dog beach is about 90 feet, and the entry is sloped well so that your pup may wade out. Fox Island Park consists of the following:
Seasonal ponds
Sand dunes
Wetland forests
Restored prairie
Old fields
Marsh
Bowman Lake is the beach available to dogs for swimming. There are picnic areas and grills if you want to share a piece of plain grilled chicken or hamburger with your pup. You can also find some little trails to take your pup for a hike when they have finished their swim.
Long Lake Resort
This sublime campground allows RV's and campers to park and enjoy the splendor of Long Lake Resort in North Manchester, Indiana. It consists of 41.3 acres of sloping ground on a lovely 50-acre lake. There are 1300 feet of a lake for your canine to practice their doggie paddle. There are also 500 feet of wetland, and leashed pups can relax and chill on the shoreline.
What Are Some Basic Rules for Dogs at the Beach?
While every beach has different rules, there are some basic rules that pretty much every beach follows when it comes to your pup:
Dogs have to be on a leash no longer than 6 feet
Dog parents must dispose of waste and clean up after their pets
There are designated areas for you and your canine friend
Do not allow your dogs to chase wildlife in the area
Dogs should not be left alone in a vehicle, especially during the hot summer months
Service dogs are often the exception to these rules, as they are allowed more access
Our four-legged family members should always be kept safe. Do not allow your canine to go swimming in the water with no supervision. Always keep your eye on your pup, and do not allow them off of their leash. It is not only unsafe for other pedestrians, but your beloved pet could also become hurt or lost.
Conclusion
Bringing your pup along will be even more fun if you love going to the beach. There are some great dog-friendly beaches near South Bend, Indiana, including the famous Indiana Dunes National Park. For the safety of your dog and the other dogs around you, always be sure to follow the rules when bringing your canine companion to the beach.
About Lincolnway Veterinary Clinic